Love The Salon in Cheltenham – Review
Business: Love The Salon – Cheltenham branch
Location: 154 High Street, Cheltenham, GL50 1EN (above Vodafone!)
Date of Review: August 2017
Reason of Review: Staff member needed a haircut
Link to their website: Click Here
Booking the appointment
This Hairdressers review of Love The Salon starts with their website, it is nice and clean and fairly easy to understand your way around the homepage but looks a little dated. The first thing I noticed though was that their initial image was out of focus, being in the publication/website industry this didn't feel me with too much confidence.
The initial bit of information I needed was the location of the salon, after all if it wasn't near where I would be it would be pointless booking there. This wasn't that easy to find. A nice Location button should be clear to find on any page (Tip). Maybe replace the 'Contact us' with 'Location'??
So I found the address on the contact us page. 154 High Street, Cheltenham. So, where is that I asked myself? I know where the high street in Cheltenham was but where on that fairly long road full of shops is it?
A map of the town with their location would be VERY useful here. Not to worry Google to the rescue!
Found the rough location using Google so all good now.
Love the Salon use a booking package to handle their appointments, they have a great big BOOK button at the top of the page so easy to get going. Sadly the company that created the booking package needs to up their game as their software was, well, I'll just say 'Hard work!'. They have managed to make a simple couple of questions into war and peace! (shame on your Shortcuts Software!)
This is not Love the Salon's problem, but does make their site less attractive.
Not been to the Salon before I booked Ade who is one of the top hairdressers, well going by the price anyway because there wasn't anything that I could see that told me anything about Ade, well certainly at the booking form. So, I clicked back to the main site to see if I could find out a little bit more about Ade.
'Meet the Team'! Perfect, a page dedicated in telling me about the team members. Now, where is Ade?
It looks like 'my' Ade is not listed on the team page.
Does this mean he is not a team member?
Do the other staff not like him?
Does he really exist?
Maybe they have created a spare name badge with Ade on it and each day one of the members wears it, a kind of forfeit from the previous days drinking games in the pub after work? Oh the excitement, looking forward to my cut!
Back to the booking, a couple of seconds after booking I received my confirmation email, nice. It includes the appointment details and their address.
Additionally to this email I also received a 'reminder' email one day before the appointment, it asked me to confirm or cancel the appointment, which confused me. The emails subject was 'Appointment Confirmation', but they wanted me to confirm it again by clicking on the button.
I guess it is for them to make sure you are still coming to the appointment, I think the wording could be a little better on this email.
No biggy, looking forward to my snipping session!
Location
Having never visited Love The Salon before I wasn't 100% sure where it was, I knew the address was 154 High Street and I knew the High Street very well but it wasn't that straightforward finding the Salon. I walked up and down the high street many times, trying to look cool and not look like a complete loser who was lost.
It would have been really handy if Love The Salon's website happened to mention they were located on the first floor and not at Street level. Additionally, they could have also said they are located above the bright red Vodafone store which is very easy to find.
Their small door upstairs is just next to this store (see photo below).
In the end I had to phone the Salon and ask them where they were.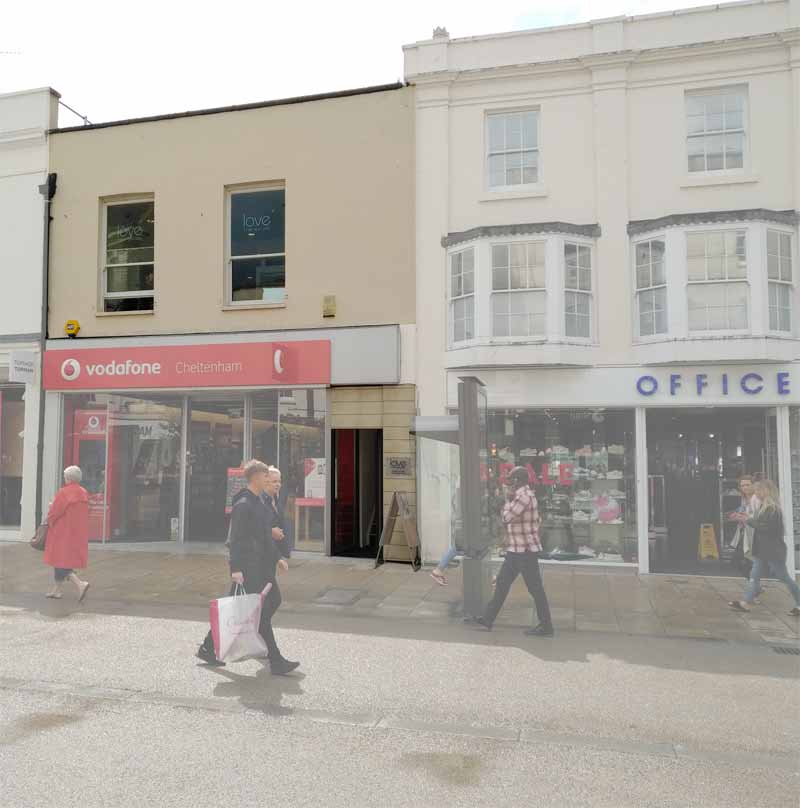 Greeting from the staff
As soon as I arrived I was greeted by Ade my hairdresser and the receptionist (Ade wasn't also the receptionist he was still just the hairdresser, I mean there were two people there one was Ade and, oh you know what I mean), which was very nice. I guess they were waiting for me as I was a few minutes late due to my half marathon I completed looking for the Salon.
I couldn't fault them for a great welcome.
The Salon
Love The Salon in Cheltenham isn't the biggest in the town, I was a little concerned what I was walking into as the name of the Salon could mean something completely different.
But my concerns were not needed as it was 'just a hair salon'.
Cheltenham has some quite flash looking hair salons, Love the Salon did look a little dated and not as glamorous as others. If this is not an issue for you then you have nothing to worry about.
The Cut
It is always interesting having someone new cut your hair, every hairdresser cuts hair different ways so the results can vary.
In the recent past I have had female hairdressers cut my hair, not for any reason but just how it has been.
I find that conversions with male and female hairdressers are different, the things you talk about are just different.
Ade (my hairdresser and the person I wasn't completely sure existed) made me feel comfortable from the start and kept the conversation rolling and relaxing.
The cut couldn't be faulted, it was very good. In fact it was probably better than my 'normal' hairdresser. Ade is a very experienced and professional hairdresser and I highly recommended him.
Leaving Love The Salon
Paying and leaving was swift and efficient, which is good as nobody wants those awkward moments when the receptionist needs to get on and do something else and I just want to go but feel like I should say something. There wasn't any gushing comments either which some Salons provide, which is a good thing in my book. After all I'm very important (ahem) and have places to go.
Overall impression of Love The Salon in Cheltenham
The biggest thing I can negatively say about Love The Salon in Cheltenham if they are reading, is their booking system and website needs a re-think, this must surely be costing them customers. Finding the Salon or in fact not finding it without their help was a pain too!
However, once there the experience was very good, I was looked after very well and the new hairstyle will impress all who adore me, which are my two puppies. 🙂